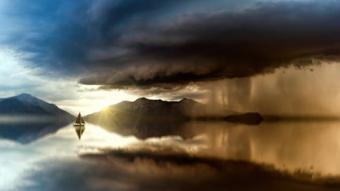 Do you have loved ones that you would really like to see come to know the Lord in a true saving way? Have you prayed for them? Cried for their eternity? Is there a deep ache in your heart for them? Do you wonder if their salvation depends on you convincing them to receive the gift Christ has offered them?
I am currently attending a Bible study at my church where we are studying the Prophets (The Word of the Lord: Seeing Jesus in the Prophets by Nancy Guthrie). This week we studied Jonah. I kind of went in to the study with the attitude, yea I know the story. Jonah was rebellious to the calling of God and tried to run from the task the Lord was giving him. God held onto him using a big fish and in the end Jonah did what God asked him to in the first place. What I found surprising when studying this prophet were the nuances of Jonah's heart. Jonah was initially described as a "popular prophet" (pg. 44). His prophesized good news for the Israelites which came true. For Jonah these would have been happy days. He would have been popular among his people. Then God calls him to go to Nineveh. The Ninevites were Assyrians who were fiercely oppressive and cruel to the bordering nations including Israel (pg. 45). Jonah did not want to tell these people of God's intention to over throw them. He just wanted them to be overthrown.
We are studying Nancy Guthrie's book "The Word of the Lord: Seeing Jesus in the Prophets". Through this week's study we were able to get a bird's eye view of Jonah and his journey of learning obedience to the Lord.
Here we get the picture of Jonah's heart. Jonah runs to Tarshish by way of a ship which ends up caught up in a storm as the Lord hurled a great wind on the sea (Jonah 1:4). The sailors on the boat worship pagan gods. They all pray to their various pagan gods to be delivered from this frightening storm. Jonah is asleep at the bottom of the boat. Jonah is not speaking to his God.
When the sailors hear about the God Jonah is running from they immediately believe in His power and sovereignty. They fear the Lord they do not know. They call out to the Lord they do not know and ask for His mercy. They reluctantly obey what the Lord requires of them and throw Jonah into the sea (Jonah 1:14). You can see what a bad witness Jonah was to these sailors and yet God works the miracle of salvation in their hearts (pg. 47). Salvation belongs to the Lord. Jonah's heart was not to serve the Lord as God called him to. Jonah acted out of what he thought was best rather than trusting God and His wisdom.
I know that I have been a bad witness to others in my humanness and disobedience to the Lord. It is a comfort to know that God can use anything from me to witness to others and bring them to salvation should He desire. (That being said I am certainly not encouraging us to be bad witnesses!)
Another aspect of Jonah's heart that is worth noticing is that Jonah did not like the idea the God would show mercy on the Ninevites. Have you ever had someone you felt God wanted you to show his mercy and love to and you would rather not? In your heart you believed they did not deserve it? Often times we want justice for others and mercy for ourselves. Jonah expressed this even in his obedience to God's call. It was a three-day walk to Nineveh for Jonah. He walked one day and gave an eight-word message. "Yet forty days, and Nineveh shall be overthrown." Even though Jonah gave a half-hearted message that he likely hoped they would ignore, God touched the hearts of men (Jonah 3). Salvation belongs to the Lord.
So whether we do everything right with a godly heart or, more likely, we bungle it all up with our sinful opinionated hearts, remember we can neither boast in nor blame ourselves. Salvation belongs to the Lord!